About Onketing
OnKeting – The name was thought of based on combination of two words, "ONline marKETING".  Our CEO and Founder, Rahul Makhija, who is passionate about Online Marketing and has dedicated more than 6+ years of his life to this field, started this company with one goal in mind – to offer cost effective solutions to small and mid-size companies who lack online marketing knowledge. The aim was to treat each project with equal care and personal attention and deliver quality results. The solutions would have to be simple and affordable.
We work with a limited number of clients to ensure personal dedication to each client and offer them affordable service which cannot be matched elsewhere.
Our Vision
We aim for innovative and economic strategies in the field of online marketing and hope to provide our clients with a comprehensive strategy to show tangible results in terms of steadily growing returns on every investment. Our growth as a company depends upon the success of our clients and so we see every client as a partner.
Our Mission & Belief Statements
We consider all our clients as our partner.

Rather than focusing on marketing channel result we focus on the bottom-line i.e. the return on investment we generate for our customer.

To make sure utmost quality work standards are maintained and ensured at every step.
About the Founder of OnKeting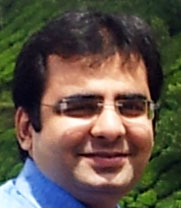 Rahul Makhija started working on website development in 1999, when everything was still new and most of the users were on dial-up connection. He believes in continuous growth and learning. He started his first website in 2004 and promoted it effectively to reach a user base of 38,000 registered members within a span of 6 months.
He has a MBA Degree, with specialization in Marketing from Mumbai University and has done his Bachelors in Business Management Studies, again with specialization in Marketing, from Mumbai University. He is certified by SEOCertification.org
Rahul is well aversed in designing [Photoshop, Illustrator, After Effect, Flash], programming [HTML, CSS, PHP, Mysql] and of course in Online Marketing [SEO, PPC, SMO, Landing Page Optimization]. His passion is Internet Marketing and being knowledgeable in related areas like designing & programming, helps him communicate better with clients and their employees.  It makes sense to communicate with the CEO using marketing terminology and with the programmer in technical language regarding project details and this is easily facilitated by Rahul.
He believes in continuously testing online platforms and learning through interaction with other experts by attending various seminars, workshops and conferences on a regular basis.  His focus is to help the client's company grow by using the knowledge that he has gained and refined over the years.